Splash Damage test, 885 tris
Photoshop · 3DSMax · ZBrush
3 pics »

Aeyon
Photoshop · 3DS Max · Maya
15 pics »

Racing ship, 3376 tris
Photoshop · 3DS Max · Maya
4 pics »

Next-Gen character, 4736 tris
Photoshop · ZBrush · Maya
1 movie · 7 pics »

Anubis, 1260 tris
ZBrush · 3DS Max · Photoshop
3 pics »

2 Rocks
ZBrush · 3DS Max · Photoshop
3 pics »

Some little assets
3DS Max · Photoshop
4 pics »

Skateboard, 676 tris
3DS Max · Photoshop
2 pics »

Tennisball launcher
3DS Max · Photoshop
2 pics »

Curling assets
3DS Max · Photoshop
1 pic »

Texturing
Photoshop
2 pics »

Base Model
3DS Max
5 pics »

Next-Gen Rock and Tree
ZBrush · Maya · Photoshop
1 movie · 2 pics »

Fighting animations (model provided by the teacher)
Maya
4 movies »

TFA on Unreal Engine, ambiance pictures
UE · 3DS Max · Photoshop
4 pics »

TFA on Unreal Engine, assets pictures
UE · Max · Photoshop
6 pics »

TFA on Unreal Engine, editor pictures
UE
5 pics »

TFA on FreshEngine (PS2)
Maya · Photoshop
1 movie · 6 pics »

TFA field texturing
Photoshop
1 pic »

Character for Unreal Engine, 4300 tris
3DS Max · MudBox · Photoshop
7 pics »

Logo for the Unreal team called Cursed Gaming
3DS Max · Photoshop
1 pic »

Paintaing of MI3 character
Photoshop
2 pics »

Eagle Meca with animations, 3500 tris
Maya · Photoshop
3 movies · 4 pics »

Field preview
Maya · Photoshop
3 pics »

Field texturing
Photoshop
1 pic »

Tree for PS2, 2500 tris
Maya · Photoshop
4 pics »

Gun for UT2004, 2000 tris
3DS Max · Photoshop
2 pics »

Meteor for PS2, 3500 tris
Maya · Photoshop
2 pics »
» This is the old Splash Damage test I'm working on when I got the time. The texturing is in progress. The final render will be on Unreal Engine 3.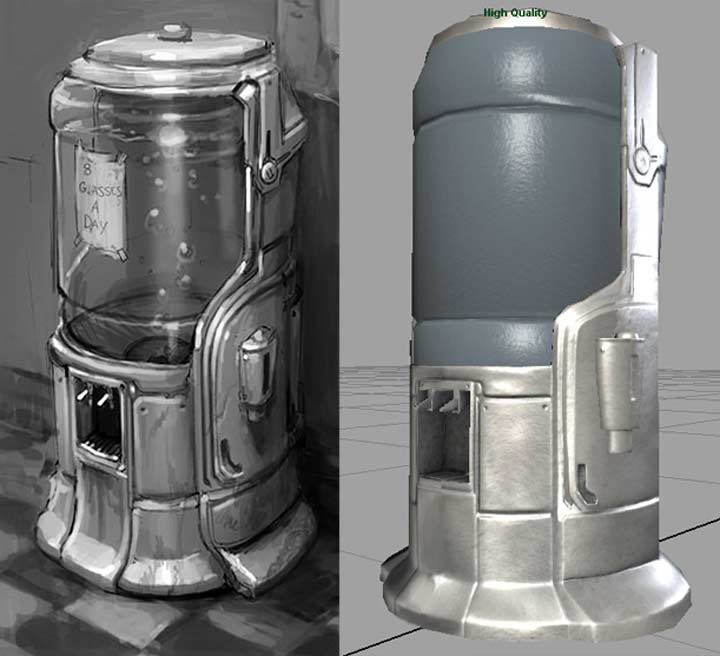 At the left you can see the original concept from Splash Damage and at the right my model. I started it by making a high poly in 3DS Max. I made a pass in ZBrush to add some scratch and make it less perfect. Here is a render in the maya viewport with my CGFX shader.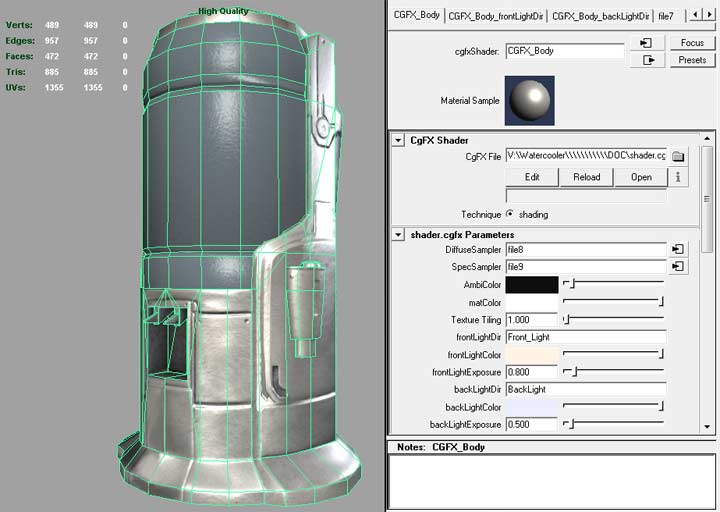 The front view with the CGFX Shader. As you can see it's low poly...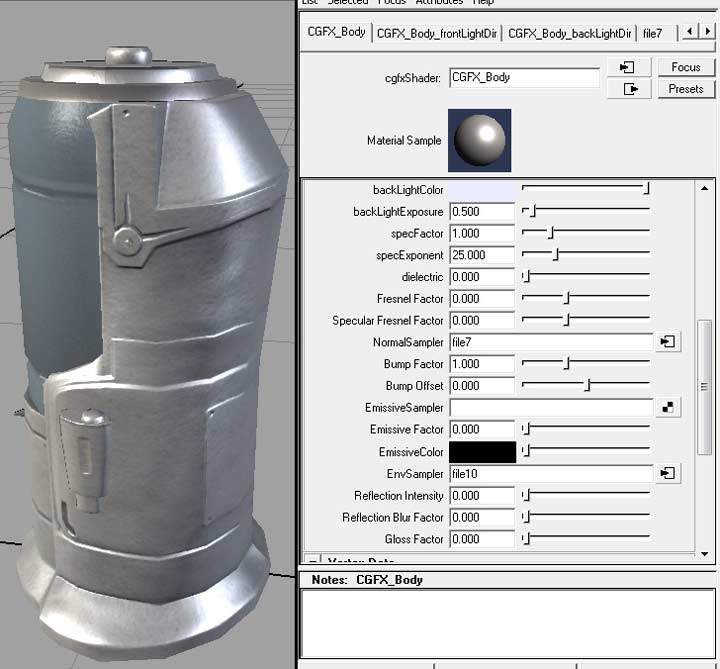 Here is a side view.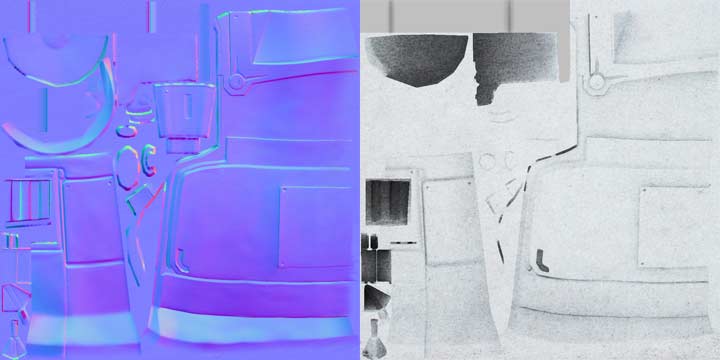 Here is the normal map and the diffuse. The Diffuse and Specular map are in progress I just added some texture and the ambiant occlusion. It's possible I rework a little bit the normal map... So as I said previously, still in progress :).