Underground Nation Radio (2008-web)
Photoshop · Dreamweaver
0 pic »

Galactic Empires (2008-web)
Photoshop · Dreamweaver
1 pic »

DP - Zone-Trading (2007-web)
Photoshop · Dreamweaver
1 pic »

Aeyon (2007-layout and more)
Indesign · Photoshop · 3DS Max
1 pic »

JFC - Banking equipment (2007-web-layout)
Photoshop · Illustrator · Indesign
2 pics »

Destock Paradise (2007-layout)
Photoshop · Indesign
1 pic »

Best of music (2006-web)
Photoshop · Dreamweaver
1 pic »
» Galactic Empires is a spatial game like Ogame for people who knows it.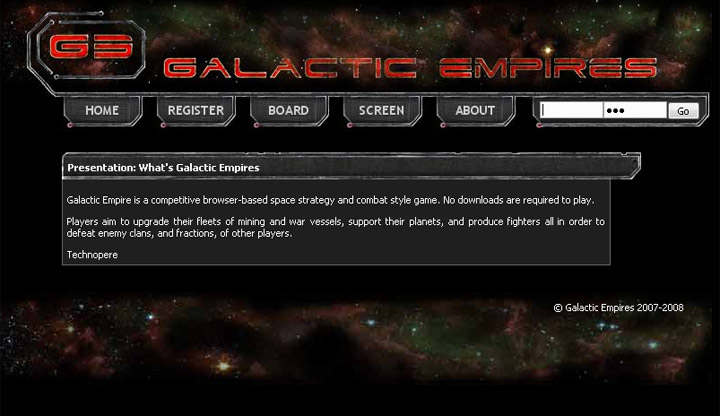 I made the global design for the website, not the game behind. I started by making the logo with Illustrator and photoshop then I worked everything for the web and coded a light frontpage.
You can visit the website here.